Most Expensive Flip Phones
The Best Flip Phones
What to Consider
Choosing the right flip phone typically boils down to your current service provider and whether the phone comes locked or unlocked. Locked phones are tied to specific carriers and tend to be less expensive than unlocked phones, which you can use with the carrier of your choice.
Major carriers including Verizon, AT&T, and T-Mobile offer flip phones with the same basic capabilities as those sold in the aughts, and you can expect to spend anywhere from $20 to $250 for one of these. But not all flip phones are cheap cell phones: Samsung's Galaxy Z Flip is a foldable smartphone, and the latest Flip4 is more than $1000 with features to match the price point. Don't assume every flip phone is equipped with a USB-C charging port, the current universal standard—some have micro-USB ports instead.
In terms of special features, things like large backlit keys, high volume, and a loud speakerphone can be helpful if you have trouble seeing or hearing. If you need an extra durable flip phone, some models are drop-tested to military standards and have water- and dust-proof ingress protection, or IP, ratings.
How We Selected
To compile our selection, we considered phones sold by major carriers including Verizon, AT&T, and T-Mobile, and looked at models from established brands like Samsung and LG. We took into account the storage, connector type, cellular technology, and cameras on the phones, along with design, durability, and aesthetics. We also considered models with and without smart capabilities and aimed to include options across price points, ranging from $20 to $1,000.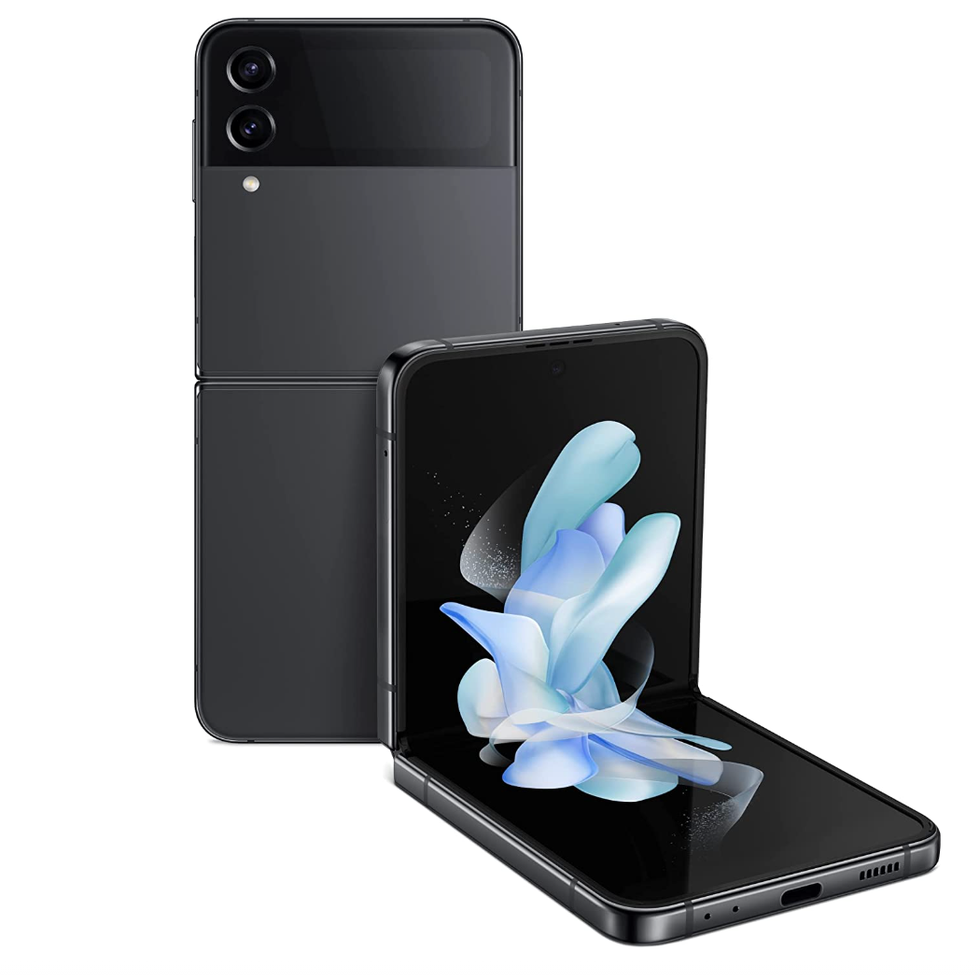 1
BEST OVERALL
Samsung Galaxy Z Flip4 Flip Phone
Now 10% Off
PROS
Compact without sacrificing large screen
Innovative design with customization
Impressive display
CONS
Minimal improvements to camera
If you want a smartphone packaged in a flip phone's body, Samsung's Galaxy Z Flip 4 is the best option.
It doesn't come cheap, but the phone itself is gorgeous. It's compact, with a slimmer bezel than the Flip3, while still accommodating an impressive 6.7-inch screen. The Galaxy Z Flip4 also has a more powerful 3,700-mAh battery and 25-watt fast-charging than its predecessor.
Special features are pretty nifty, which include the ability to view multiple screens at the same time and to customize the cover screen to your liking with things like your most-used apps and calendar reminders.
The flip phone's camera is solid, with 12-MP wide and 12-MP ultra-wide lenses and a 10-MP front lens, though these aren't significantly better than the Flip3's and are nothing to write home about.
KEY SPECS
| | |
| --- | --- |
| Storage | 128 GB |
| Cellular technology | 5G |
| Camera | 12-MP wide and 12-MP ultra-wide rear; 10-MP front |
| Connector type | USB-C |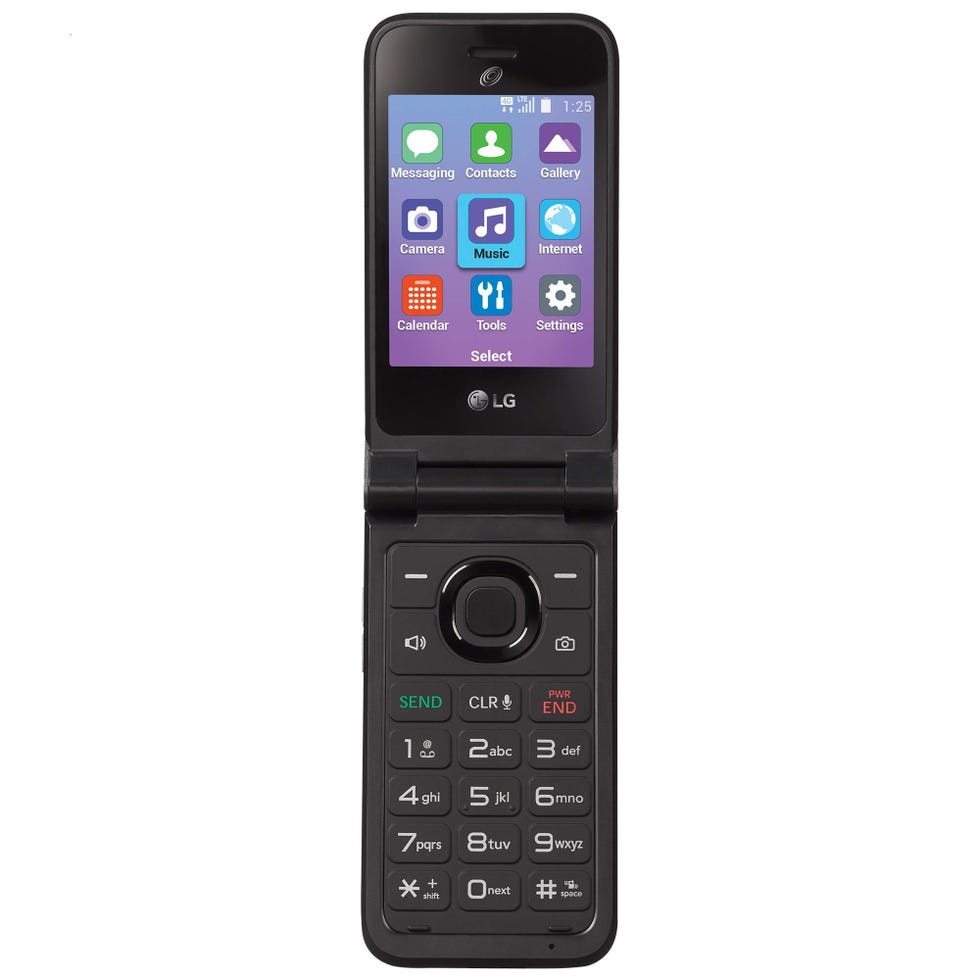 2
BEST UPGRADE
LG Classic Flip Phone
PROS
Sleek design with modern details
8 GB of storage and 2-MP rear-facing camera
SOS key on back panel
CONS
Micro USB connector
This flip phone has similar features to the TCL above, with 8 GB of storage, a 2-MP camera, and a 2.8-inch screen. The phone charges via a micro-USB cord.
The LG's exterior is dark metallic gray and its camera lens, battery life indicator, and time are set on a sleek and modern front panel. An SOS key on the back panel is a helpful features incorporated in its design.
KEY SPECS
| | |
| --- | --- |
| Storage | 8 GB |
| Cellular Technology | 4G |
| Camera | 2 MP |
| Connector Type | Micro USB |
| Color | Black |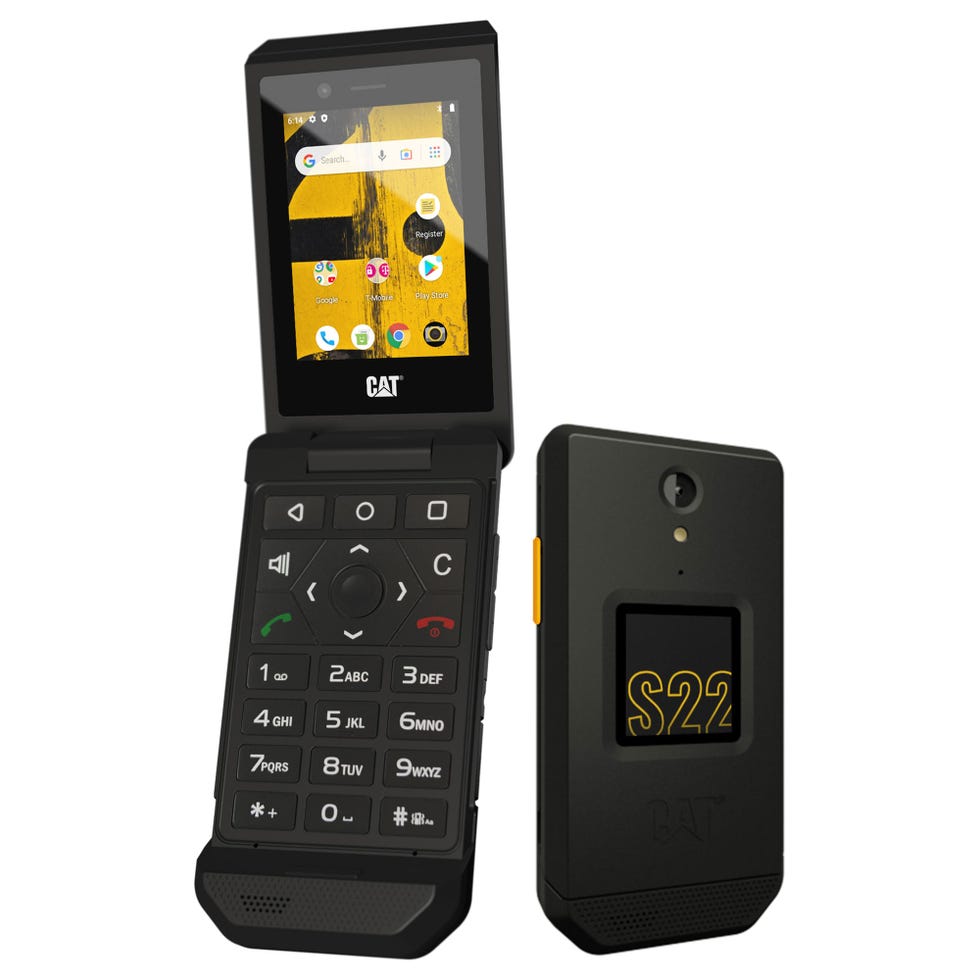 3
BEST RUGGED SMARTPHONE
CAT S22 Rugged Flip Phone
PROS
Drop-tested to military standards and IP68 rating
Touchscreen works with wet and gloved fingers
5-MP and 2-MP cameras
Google Assistant preloaded
Comes with 2-year warranty
CONS
Locked to T-Mobile network
This smart and rugged flip phone is designed specifically for construction workers on job sites.
The Cat S22 is armed with a large battery and powerful speakers, built to achieve an IP68 rating. It can survive a six-foot drop on steel and up to 35 minutes in five feet of water, and its rigorously-tested hinge has been upgraded from the previous model.
Other highlights include a 2.8-inch touchscreen that works with wet or gloved fingers, a programmable key with push-to-talk mode, and a 2,000-mAh removable battery. It's also preloaded with Google Assistant and features five- and two-megapixel cameras, plus there's a USB-C port for charging and an included two-year warranty. The caveat is that it comes locked to T-Mobile's network.
KEY SPECS
| | |
| --- | --- |
| Storage | 16 GB |
| Cellular technology | 4G LTE |
| Camera | 5-MP rear; 2-MP front |
| Connector type | USB-C |
Advertisement – Continue Reading Below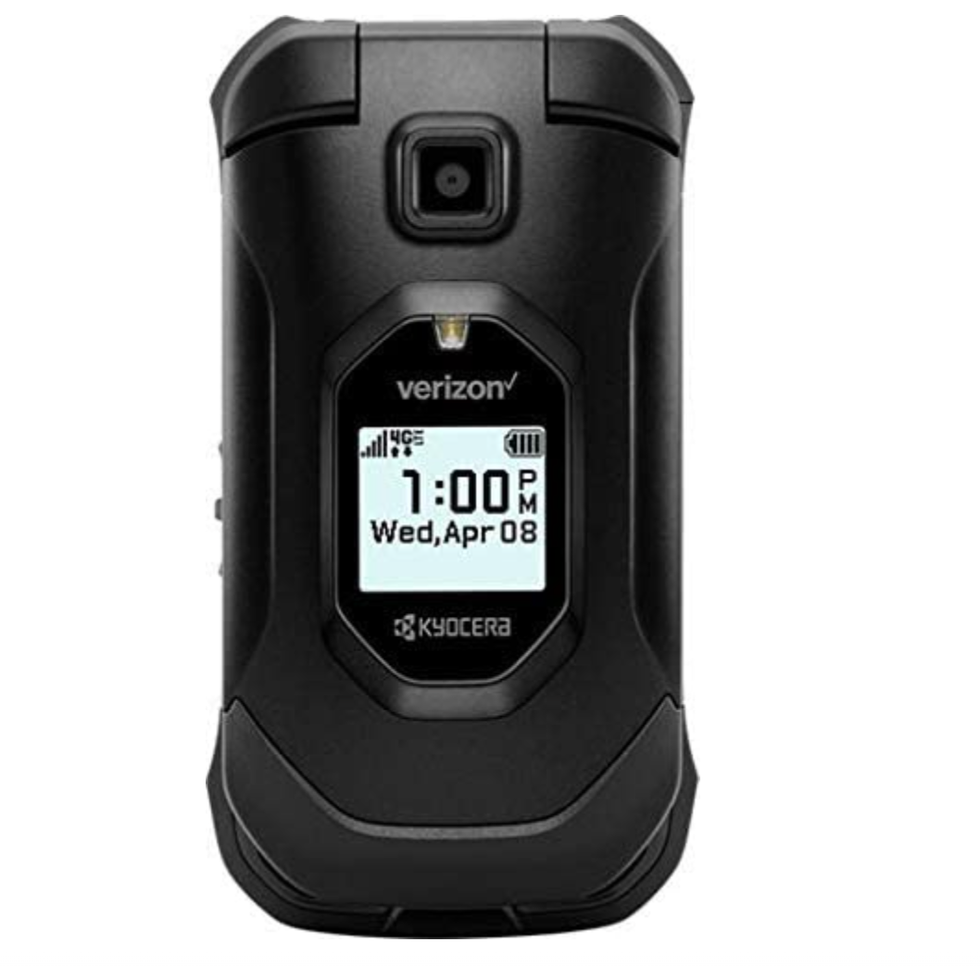 4
MOST DURABLE
Kyocera DuraXV Extreme Flip Phone
PROS
Rugged design
Great call quality and loud speakerphone
16 GB of storage and 5-MP camera
USB-C connector
Phone comes unlocked
CONS
A bit clunky and heavy
There's a lot to like about this flip phone, particularly if you're an existing Verizon customer. It's perhaps the best option among the carrier's basic 4G phones as it's exceptionally durable with great call quality and a super-loud speakerphone. It also comes with 16 GB of storage, a 5-MP rear-facing camera, and a USB-C charging port.
The flip phone is rated to military standards—it's water-resistant and can withstand drops from five feet as well as extreme temperatures. It features a hard plastic casing and shock-absorbing bumpers on four sides. As a result, it's a bit heavy and clunky.
KEY SPECS
| | |
| --- | --- |
| Storage | 16 GB |
| Cellular technology | 4G |
| Camera | 5 MP |
| Connector type | USB-C |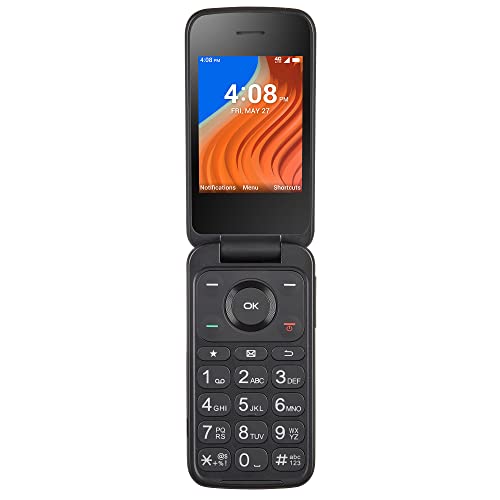 5
MOST AFFORDABLE
TracFone TCL Flip2 Flip Phone
PROS
Solid talk and text functionality for a rock-bottom price
8 GB of storage and 2-MP rear-facing camera
Sleek design and raised, oversized keys
TracFone is part of Verizon's network
CONS
Phone comes locked
If you don't want to plunk down a ton of cash for a flip phone, TracFone's TCL Flip2 is an excellent choice. It features 8 GB of memory, a two-megapixel rear-facing camera, and a decent 2.8-inch screen. Also, TracFone was acquired by Verizon in 2022, so the flip phone is part of the carrier's robust nationwide network.
The TCL Flip2's design won't wow you, but it's attractive enough with a textured metallic gray exterior and rounded edges. Another plus is that the keys are raised and slightly oversized.
For more memory, 128 GB is the largest micro SD memory card the phone accommodates. This phone charges via micro-USB.
KEY SPECS
| | |
| --- | --- |
| Storage | 8 GB |
| Cellular technology | 4G LTE |
| Camera | 2 MP |
| Connector type | Micro-USB |