In the ever-flourishing world of luxury handbags, where elegance meets craftsmanship, one name stands unrivaled, evoking images of grace and sophistication. Ladies and gentlemen, let us embark on a journey into the enchanting realm of Hermes Birkin sizes. Timeless icons of opulence and coveted masterpieces adored by fashion enthusiasts worldwide, the Birkin bags have captured the hearts of methodical collectors and fashion aficionados in a symphony of brilliance. Allow us to guide you through this captivating universe of sizes, where luxury and allure intertwine, leaving an indelible mark on the fashion landscape. Take a deep breath, and prepare to immerse yourself in the fascinating dimensions of the Hermes Birkin collection.
Hermes Birkin bags are stunning high-end handbags that we can't help but be obsessed with. They are seen on celebrities and fashion influencers alike, and have achieved an iconic status.
As a matter of fact, most people simply dream of owning a Birkin, but few are lucky enough to find one in their hands. That being said, if you are on the search for your very first Birkin bag (or as a gift for a loved one) and want to know more about Birkin sizes, we've got the low-down.
Read on to learn all about the Hermes Birkin sizes and which one is best for you!
What are the sizes of Hermes Birkin bags?
This iconic and gorgeous bag is sold in 4 different sizes: Birkin 25, Birkin 30, Birkin 35, and Birkin 40. These bags are named based on their length in centimeters (but don't worry, we'll break down the measurements in inches too!).
Additionally, Hermes occasionally releases limited-edition sizes. Whether you're looking for an everyday elegant tote or a luxurious bag to bring to the office, Hermes will have the perfect Birkin bag for you.  
Below is a foolproof guide on the four Birkin bag sizes. And, we'll fill you in on their dimensions, plus help you find the best Birkin bag to meet your needs. 
What size Birkin is most popular?
The Hermes Birkin 30 is the most popular size of these gorgeous, iconic handbags. This luxury tote is lightweight enough to carry around all day and has enough space for everything you need.  It can be carried on your forearm or used as a handbag. 
At 30 cm in length and 22cm in height, Birkin 30 bag is perfect for everyday use, fitting all the essentials such as keys, a wallet, and your phone plus extra space for a scarf or makeup bag.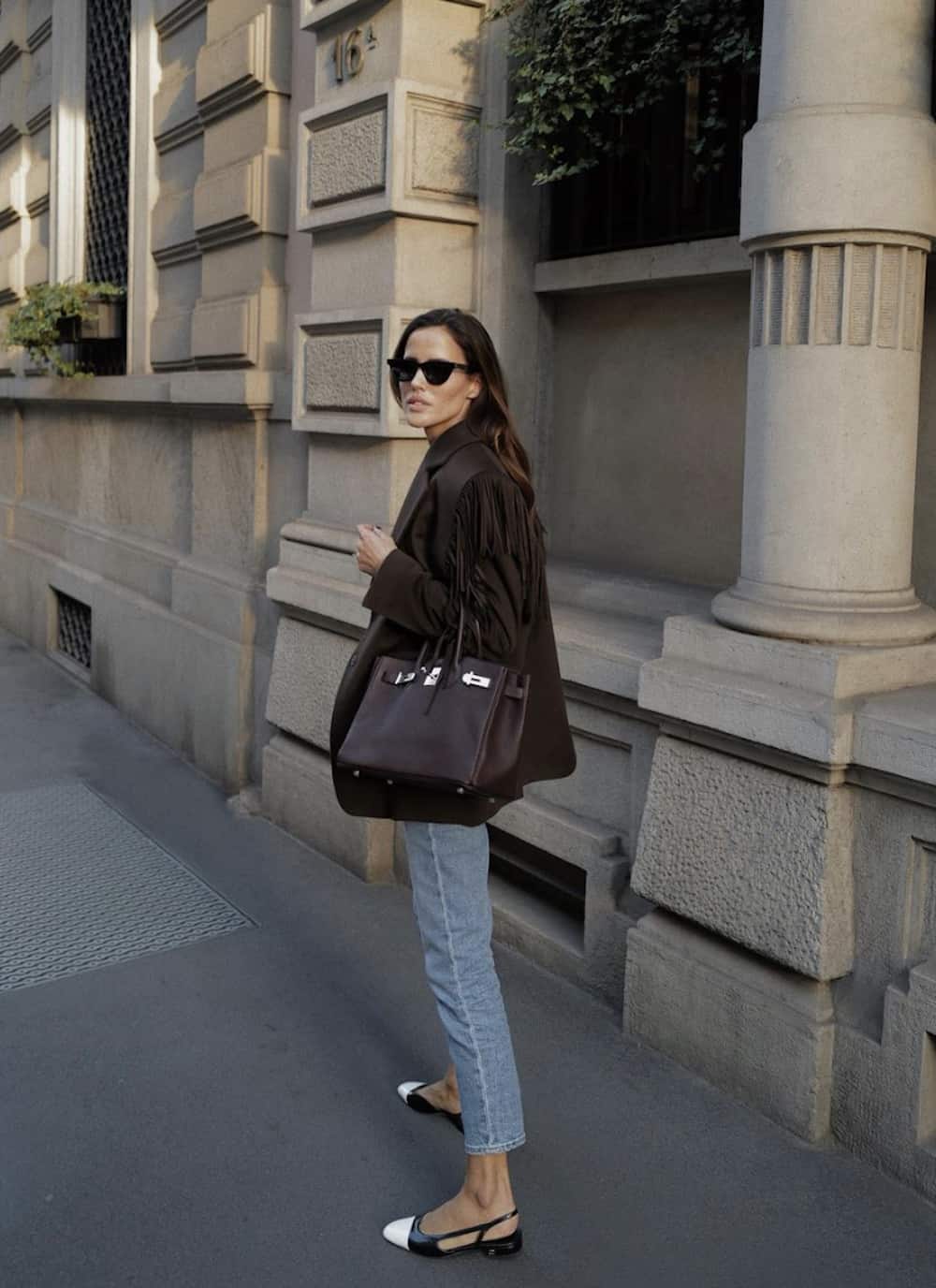 How big is a Birkin 35?
The Birkin 35 measures 35cm in width, 25cm in height, and 18cm in depth (13.5″ x 10″ x 7″). It is a medium handbag that is about the size of a small laptop. 
What's great about the Birkin 35 is that it will fit everything you need to carry with you, and it still has room for some more. On top of your essentials, you can fit a water bottle, a book, or even an iPad.
Is Birkin 25 small?
Birkin 25 is the smallest of the Birkin bags, except for their rare, limited edition mini bags. Measuring 25cm in width, 20cm in height, and 13cm in depth, this chic tote considered to be quite small.
While a minimal size, the tote is still a great choice for anyone looking for a bag to carry just their daily essentials. The Birkin 25 can fit your phone, wallet, and keys and has just enough spare room for lipstick or some hand cream.  
Hermes Birkin Sizes Comparison
Birkin bags are handmade from leather and have striking palladium or 18-carat gold hardware. They have a sophisticated and minimalist design that gives them a clean and versatile look. 
Each designer handbag has a classic flap on the front, a front lock with keys, and metal feet to keep the tote standing. You can buy your Birkin bag in either rich colors or neutral hues. 
It's honestly no wonder why this beautiful bag is constantly in demand. So that brings us to the real question. Which Birkin bag size is best for you and your lifestyle? 
Learn more about each Birkin bag, compare their sizes, and find the perfect piece to add to your closet below!
Birkin 25
The Birkin 25 bag measures 10 inches wide, 8 inches high, and 5 inches deep with a handle drop of 4 inches. This handbag is a great choice if you're looking for a small lightweight bag to carry your most important items. 
great for evenings out and daily activities 
can carry phone and wallet
great for minimal essentials (lipstick, keys, etc.)
The Birkin 25 is perfect to use as an everyday bag when you want to carry light. You'll be able to fit your most important items like a phone, wallet, and keys.
Additionally, you can add in a small planner for when you're running errands or the perfect lipstick for a girls' night out. 
Birkin 30
It's easy to see why the Birkin 30 is the most popular Birkin size. At 11.5 inches wide, 9 inches high, and 6 inches deep, this bag is easy to carry but allows for plenty of versatility. 
can fit a tablet or book
great for day-to-day activities 
can carry phone, wallet, snacks, and small water bottle 
Just like the Birkin 25, you can easily fit all your daily essentials into this purse. But if you tend to carry a little more than the basics, then this bag size would be the ideal option for you. 
You'll be able to add in a small makeup bag to bring with you on long days, or a small book to keep you entertained. This bag size also has a 4-inch handle drop and can be carried on your forearm or as a handbag. 
1. Unveiling the Dimensions: An In-depth Exploration of Hermes Birkin Sizes
When it comes to luxury handbags, the Hermes Birkin holds an iconic status that transcends time. With its timeless design and unparalleled craftsmanship, the Birkin is a symbol of elegance and refinement. One of the factors that contribute to its popularity is the availability of various sizes to suit different needs and preferences. Let us take you on a journey into the dimensions of the Hermes Birkin, unraveling the secrets behind each size and helping you make an informed choice.
1. The Birkin 25: This is the smallest size of the Birkin family, perfectly suited for those who prefer a compact and lightweight handbag. Its petite dimensions, approximately 25cm in length, make it ideal for achieving a delicate and chic look. The Birkin 25 exudes a sense of youthfulness and is a favorite among those wanting to make a subtle yet sophisticated statement.
2. The Birkin 30: With slightly larger dimensions measuring around 30cm, the Birkin 30 strikes a balance between versatility and functionality. Its size allows for more storage capacity, accommodating your essentials without compromising on style. The Birkin
2. From Petite to Grande: A Glimpse into the World of Hermes Birkin Sizes
How to Style
the Hermès Birkin Bag
The Hermès Birkin is meant to be used as an everyday carryall that's great for work and travel. Pair the Birkin with jeans and a t-shirt for a casual day out, a suit for work, or a dress for to go out to dinner. Click through the gallery on the right for street style inspo.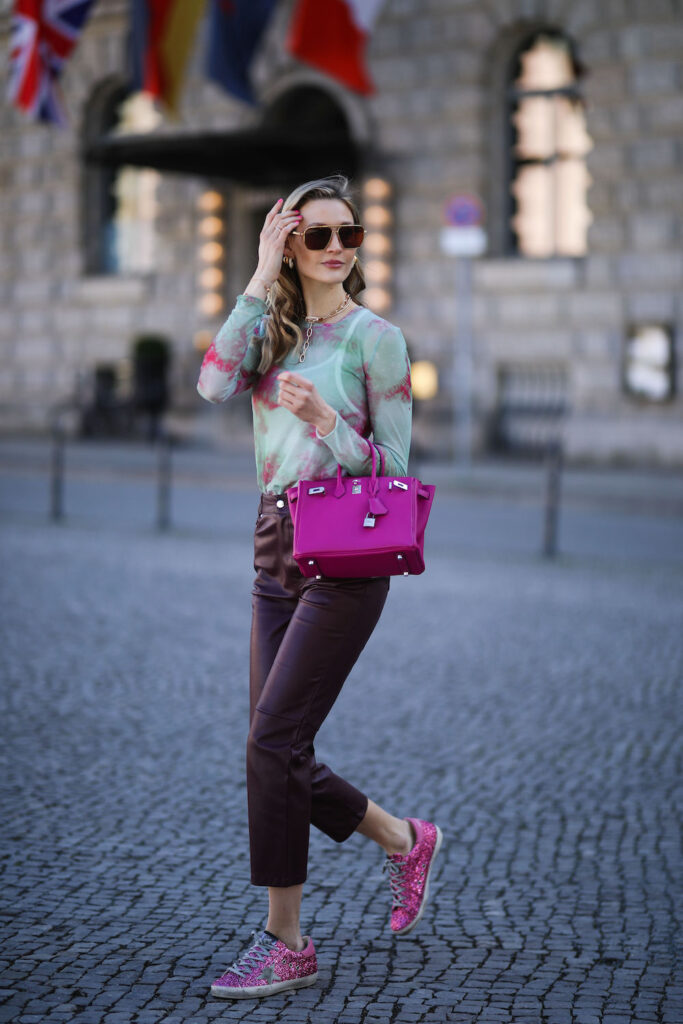 (Jeremy Moeller/Getty Images)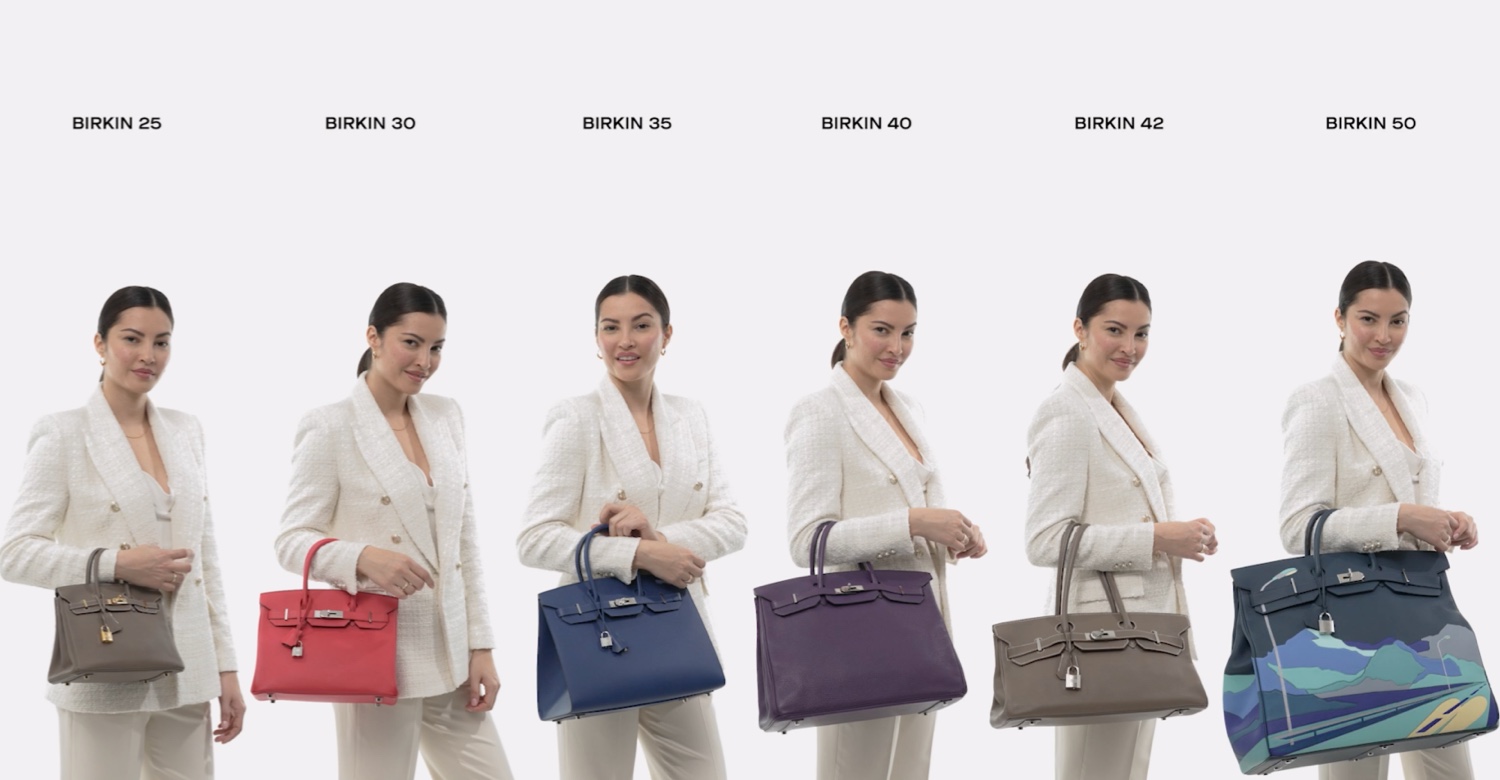 Birkin 25
The Birkin 25 is the smallest standard Hermès Birkin bag, with the exception of extremely rare limited edition sizes. It measures at 10" W x  8" H x  5" D with a 4" handle drop. It can be carried by hand or on the forearm. It can fit all your basic necessities, including a wallet, keys, phone, lipstick, and even a small book or notebook.
Birkin 30
The next biggest Birkin size is the Birkin 30. The Birkin 30's dimensions are 11.5" W x 9" H x 6" D. The Birkin 30 has a handle drop of 4 inches. Carry it by hand or on the forearm. It can fit everything you need, like your keys, wallet, a phone, small makeup bag and a small book or notepad.
Birkin 35
The Birkin 35 is a medium-sized Hermès Birkin bag. An ample size, the trapeze-bodied Birkin 35 measures 14" W x 10" H x 7" D and has a 4" handle drop. The Birkin 35 bag can be carried on the forearm or by hand. It can hold a lot, including a small water bottle, keys, wallet, phone, makeup bag, and a book.
Birkin 40
The Birkin 40 is another medium-range Hermès Birkin bag. The Birkin 40 has dimensions of 16" W x 12" H x 8" D and a 4.5" handle drop. Carry the Birkin 40 on your forearm or hold it by hand. The Birkin 40 is large, and can fit a water bottle, book, small laptop, makeup bag, phone, wallet, and keys.
Birkin 42
The Birkin 42 was designed by Jean-Paul Gaultier in 2005. The Birkin 42 was the answer for those who wanted to be able to carry an Hermès Birkin on the shoulder. Its measurements are 16.5" W x 9.5" H x 7" D. Wear on your shoulder or forearm, or carry it by hand. The Birkin 42 is longer and shorter than standard Birkins, but can fit everything from a small book, to your makeup, keys, wallet, and phone.
Birkin 45
The Birkin 45 (not pictured above) is one of the larger Birkin bags with dimensions that are 17.7" W x 12.2" H x 17.7" W and a 4.7" handle drop. Use the Birkin 45 as a weekender bag that can be carried by hand or on the arm. It can easily fit a weekend's worth of clothes, plus a small vanity case.
Birkin 50
The largest of the Hermès Birkins is the Birkin 50. The HAC (Haut à Courroies "High Belts") Birkin 50 pictured above was originated in the 1800s as an equestrian bag, and is slightly taller than the standard Birkin bag with a longer handle drop. It measures at 19" W x 17" H x 10.5" with a 5" handle drop, and can be carried by hand or on the forearm. An ideal weekender bag, it can easily fit a weekend's worth of clothes plus a toiletry case, and anything else you might need for a weekend away.